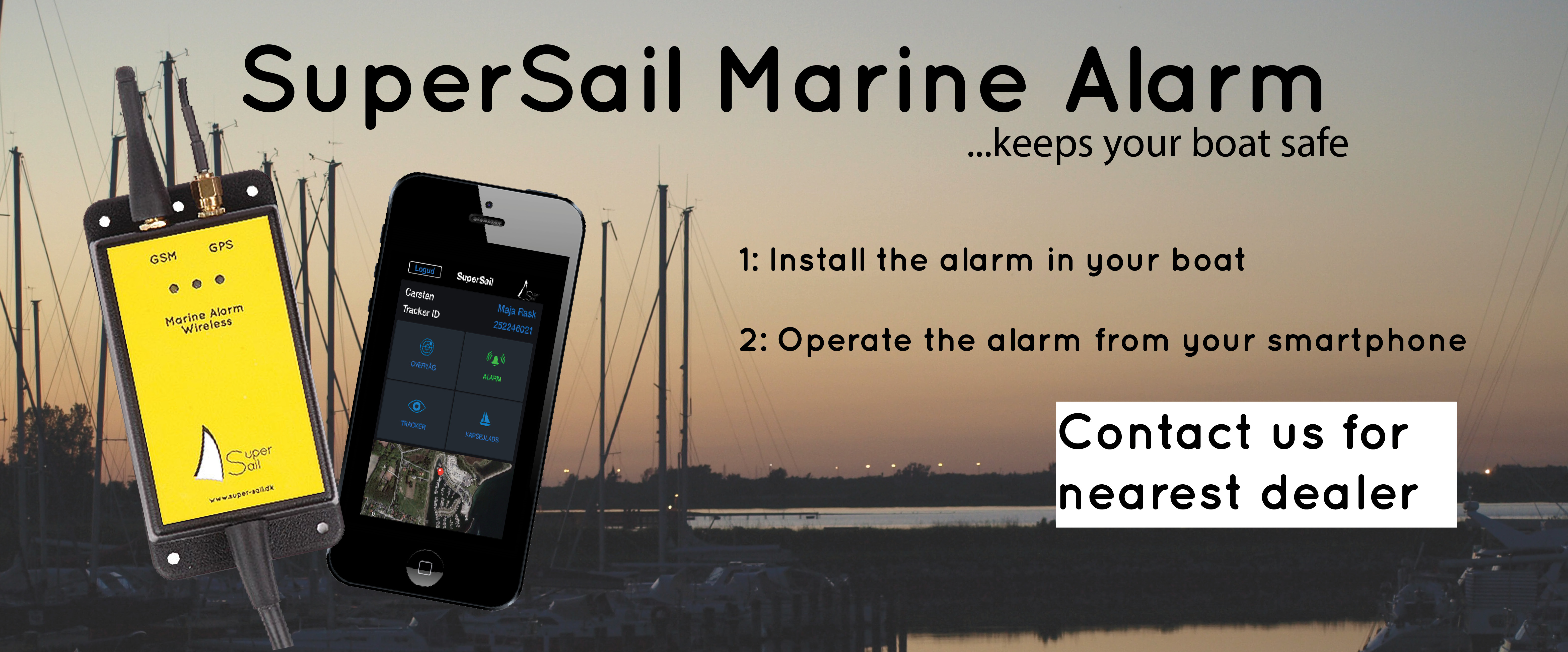 MARINE ALARM
A Marine Alarm from SuperSail makes it easy to keep your boat safe. SuperSail Marine Alarm is very simple to install in your boat and are easily controlled from your Smartphone (iOS and Android). SuperSail Marine Alarm is available in two versions: SuperSail Marine Alarm and SuperSail Marine Alarm Wireless. As a new feature it is now also possible to monitor your Outboard Engine with the SuperSail Marine Alarm Wireless. It is an increasing problem that Outboard Engines are stolen. Therefore we have developed our Marine Alarm to monitor your Outboard Engine as well as the boat. Follow us at Facebook and let us keep you updated on our products.
SuperSail Alarms are registered by the Danish insurance association and fulfills all requirements to achieve discount on your insurance.
Simple installation

Control the Alarm via your Smartphone (ios and Android)

Your boat is always safe
SUPERSAIL MARINE ALARM
SuperSail Marine Alarm is an alarm developed to make monitoring your boat as simple as possible. At any time you can see the location of your boat, and you will receive a message if something is wrong. With the SuperSail App (iOS and Android), you can control all your alarm and features via your Smartphone.
SuperSail Marine Alarm contains the following standard features:
GPS-receiver
Theft monitoring and anchor guard
Simple installation and monitoring via the mobile App (iOS and Android)
Monitoring of 12V external power
Chock Sensor
Jamming monitoring. If the alarm is prevented from communicating, you will receive a message
Connection of wired sensor or Outboard Engine alarm
SUPERSAIL MARINE ALARM WIRELESS
SuperSail Marine Alarm Wireless makes it even more simple for you to install the alarm features that you wish. With this alarm you will get all the standard features that the SuperSail Marine Alarm contains, plus the possibility of connecting wireless alarm sensors. The alarm system is installed without drilling holes or drawing wires around in the boat.
With SuperSail Marine Alarm Wireless you can also connect wireless sensors: 
Wireless Movement Sensor, that register uninvited guests
Wireless Door Sensor, that register if a door/window is opened
Wireless Water Sensor, that register water in the boat
Wireless Remote Control, that makes it easy to turn the alarm on/off
Plus….
Wired Outboard Engine alarm
Are you looking for a Marine Alarm?
Please contact os for the nearest dealer.
Also take a look at SuperSails Regatta Tracker, which will track you sailing in details and help you perform better. This tracking unit contains the same technology as the SuperSail Marine Alarm and will thus be able to supply the same features.
Please share this page with your friends on Facebook and help us spread the news about our Marine Alarm.